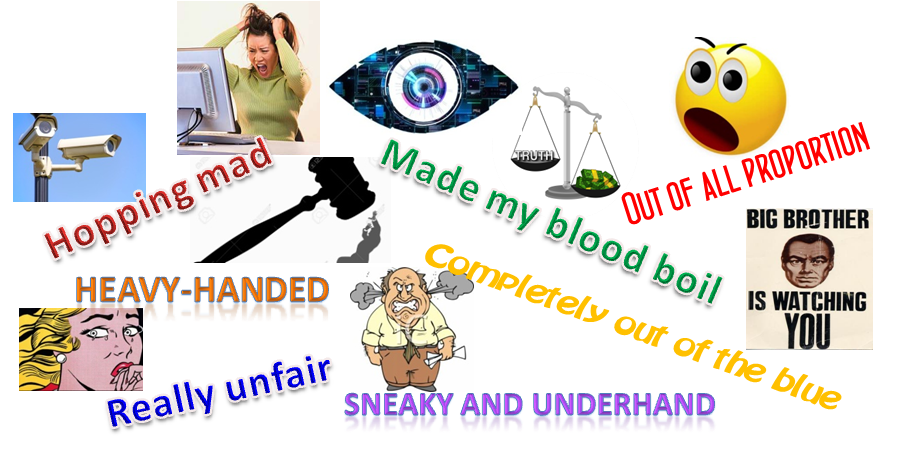 Shortly after I returned to live in Manchester (from Durham), I managed to pick up three £60 penalty notices for driving in bus lanes in just two weeks. I felt furious, but could not immediately figure out why. It just 'didn't feel fair'.
Each incident occurred at the same place, when I was exiting a multi-storey car park at Manchester Royal Infirmary and turning onto Oxford Rd. All three fines arrived in my post a few weeks after my first infringement. (I'm not so dumb as to knowingly repeat a painful mistake!) I asked myself why I felt so hard done by:
If I'd received the first notice within 48 hours, I would not have driven down the same road again.

I don't like being spied on by faceless civil servants hiding behind CCTV cameras.

There are no bus lanes in Durham, so I didn't know such a thing existed. I had received no warning or education about what the signs meant. At first glance, the sign seemed to mean 'cars and bikes only' and NOT 'cars and bikes prohibited'...after all, where are you supposed to drive according to the sign?? Quick, decide!!


The signs on the side roads before entering Oxford Rd are inadequate, placed 50 yards before the junction and easily missed.

I did not actually block any bus! The roads were deserted at the time of my 'infringement', as can be seen on the cute CCTV photograph that the authorities supply with the penalty notice. Yes, that's me causing traffic havoc. And gee-ing myself up for the game points if I can put my foot down and take out that unsuspecting pedestrian.
I asked around my friends and relatives and discovered that many of them were also angry or upset about having been caught out in a similar fashion, even though they had lived in Manchester for a while. Their stories came tumbling out: there were similar traps all over the city.
For a while I became militant. I started a petition on Manchester City Council's website. I started collecting tales of the abuse of bus lane fines by councils up and down the country. Whilst councils advertise bus lanes as an environmentally-friendly traffic-flow measure, they have discovered that bus lanes are also handy revenue-generators, pulling in millions of pounds, no doubt useful in these times of austerity. However several citiizens groups have successfully tackled their councils, resulting in bad press for the councils and in some cases, money having to be repaid to the motorists. (See links upper right).
At that time in my life, I was freshly retired, and my natural energy was looking for a place to express itself. I soon realised I did not want to become the Ralph Nader of bus lane fines, fielding angry letters from bus lane 'Me Too' motorists. But I did appeal to the council, and at least managed to get one of my three fines cancelled on the grounds that the council had been slow to send out the fines, thus preventing me from 'learning my lesson'.
Predictably I eventually calmed down, so for closure I have simply dumped some of the information here and moved on with my life. At least you now know that you are not alone in your indignation, and you have my sympathy.
Here's a typical, indignant-yet-articulate blog by 'whistleblower' taken from a forum at the motorists organisation Greenflag.com
Cardiff is a nightmare in this regard. This has got to be a money making exercise out of people being human trying to follow the rules.
This is not about road safety and it is not about keeping the bus lanes clear either. This is about catching you out on a technicality with the expectation that you will just pay without challenge.
It doesn't take into account real life when there are so many other things we have to consider, like navigating, checking our speed, getting to our meeting or arrangement on time, keeping our kids in order when they are bleating, being considerate to the traffic and other road users, not knowing the area or even daring to make a mistake by being over cautious when turning left!!
And then what about the wider things that could be happening in your life like recent bereavements or going through a redundancy consultation process?! Clearly, with all the things that could be going on we should try harder and be more careful. Why can't we? Turn it in on yourself and go into a depression for a bit for the wrong you have done and think about what you have learned today.
You know what, I disagree and I am prepared to make a stand. This is jobs worth gone mad and as such is unfair; worse actually, its an officious rip off. Driving is no longer a pleasure with PCN cameras and speed guns and traps, making big brother proud. I think they should repaint the bus lanes to be more considerate to the general motorist and I think they should turn the cameras off.