Mission statement
'Dr Hoppo's Urban Rooftops' is my latest musical project: a seed intended to grow into a big band playing jazz, latin, soul, funk, rock, dance music, mixing up genres to keep audiences entertained. I'm inspired by the great band leaders like Machito, Artie Shaw, Perez Prado and so on...I'll get there one day...

For now, in early 2022, expect a first set of jazz and other cool music, followed by a second set of vibrant dance music, all designed to captivate your ears and revitalise your spirit.

The Urban Rooftops are: prima chanteuse Lauren Mullarkey, with Dave Howells on lead vocals and guitar, Mick Gilbourne on percussion, Myke Wilson on drums, Rob Murray on bass, Steve Arrand on trumpet and Dr Steve (Hoppo) Hopkins on the pianoforte. And a rooftops night will always feature exciting special guests, see adjacent box 'Last gig'.
I also care that my guests are comfortable and have a good time. Come to a gig and I'll make sure you get a seat at a table, maybe meet some new friends and there'll be space to dance if you want to.
This current grouping evolved out of my earlier project The Archangel Orchestra. I aim to gradually rebuild the larger ensemble - but this time via smaller steps!
From our March gig at the Carlton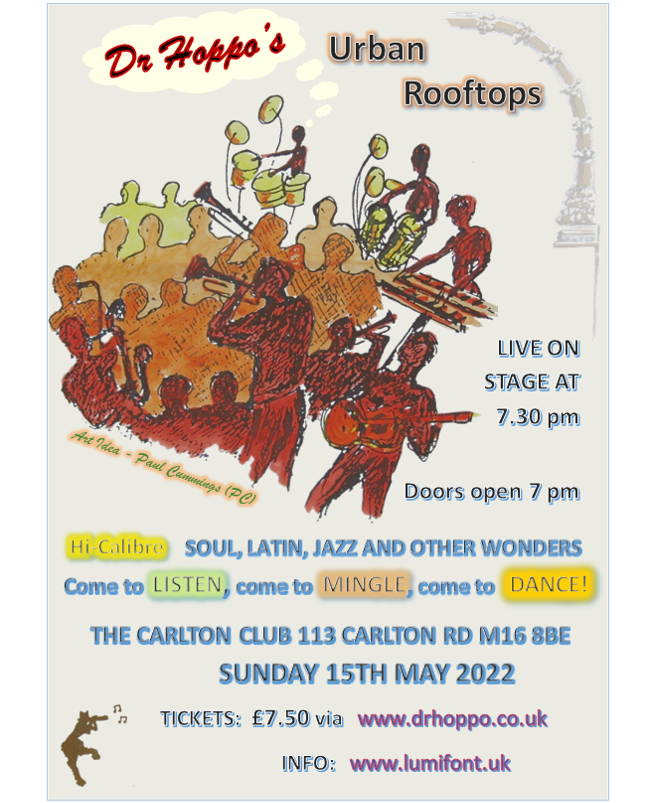 Last gig was:

Sunday 15th May 2022 at the Carlton Club, Whalley Range, doors open 7 pm



Special guests: Neil Shaw-Hulme (saxes) and Helen Pillinger (saxes)
Next gig: September 2022 at the Carlton Club